LitLIVE! Brunch hosted by Circle of Friends of the Alvin Sherman Library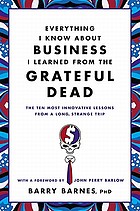 Nova Southeastern University Professor Barry Barnes explains how the Grateful Dead were masters of improvisation in their music and in their business.
Complimentary for Circle of Friends members
$15 per person for non-members

Reservations required, walk-ins not permitted.

RSVP by Monday, Feburary 27th
Joan McBean @ 954-262-4627 or jmcbean@nova.edu
LitLIVE! is a series of lectures, book sales and signings by some of our nation's best selling authors. LitLIVE! is in conjunction with the Broward County Literary Feast and is free and open to the public, from 12:30-5:30 pm.
3100 Ray Ferrero, Jr. Blvd.
in
Fort Lauderdale
,
FL
33314
Cost: $15 for non-Circle of Friends members