Miss Meagan's Storytime Fun: Bear-y Good Books (ages 3-5 with caregiver)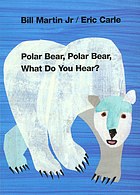 Join us for Miss Meagan's favorite books about bears including Old Bear by Kevin Henkes, Polar Bear, Polar Bear What Do You Hear? by Bill Martin Jr.,  and Bear Wants More by Karma Wilson. 
Family Literacy University
It's never too early to start sharing books! Learn how to develop your child's vocabulary, one of the six skills children need to be ready to read.  Research from the National Center for Family Literacy shows that "students who enter kindergarten knowing more vocabulary learn new vocabulary at twice the rate of students who begin with a lower vocabulary."
Little Learners Open Lab
Explore the world online in a relaxed, one-on-one environment with fun, age-appropriate site recommended by librarians
3100 Ray Ferrero, Jr. Blvd.
in
Fort Lauderdale
,
FL
33314
Cost: Free